Day 4
34 € plein tarif
29 € tarif réduit
Saturday 28 May
16.00—00.00
In 2022, Nuits Sonores will strengthen its daytime identity and programming over the course of four long days on the industrial site of the former Fagor-Brandt factories, a venue that has been synonymous with the festival since 2017. The four Days present us with a new opportunity to rethink the layout of the site and to rebuild the festival experience around three very different stages: the main stage (for concerts and live sets), a second stage (for hybrid performances and 360° video projections), and a soundsystem serving as an urban dancefloor.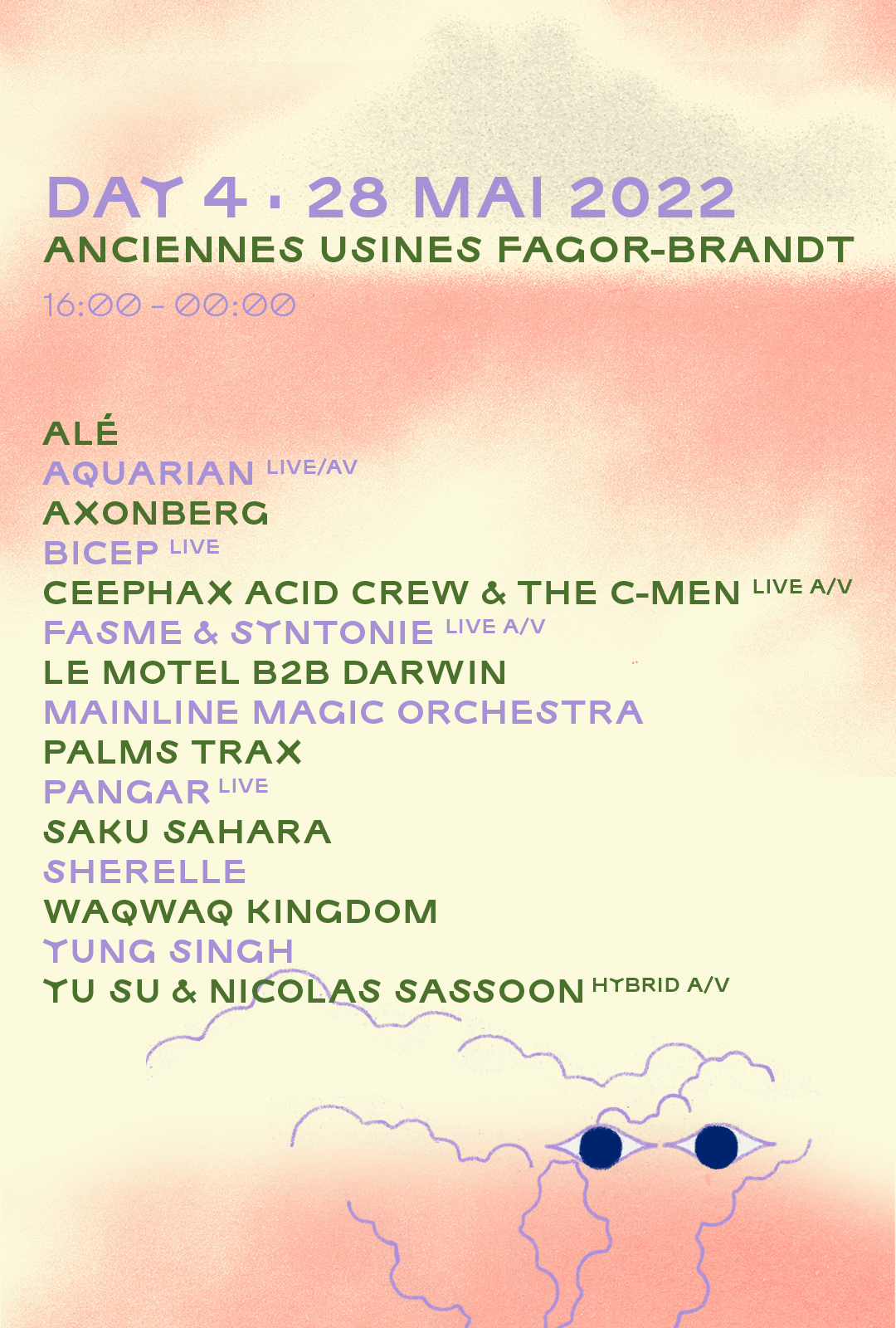 The fourth day will be all about joy. The programme reflects today's powerful IDM revival, with Parisian Fasme – whose sound fits perfectly into this ideology – following in the footsteps of Ceephax Acid Crew; a little less crazy, but delivered with an unmistakable dose of acid. It all makes for two transcendent and immersive live audiovisual shows.
Mainline Magic Orchestra will bring their own sense of joy, not to mention a healthy dose of humour: the quartet from Barcelona skilfully tread the line between dark contemporary performance art and psychedelic jazz. Meanwhile, the third outdoor stage will host the drum'n'bass of Lyon's Saku Sahara and the hip hop, jungle and dancehall of Yung Singh (whose sound is subtly influenced by Punjabi traditions).
The last day of the festival will be brought to a close by none other than BICEP, the legendary Belfast duo renowned for their mastery of breakbeat and deconstructed rhythms.