Day 2
34 € plein tarif
29 € tarif réduit
Thursday 26 May
16.00—00.00
In 2022, Nuits Sonores will strengthen its daytime identity and programming over the course of four long days on the industrial site of the former Fagor-Brandt factories, a venue that has been synonymous with the festival since 2017. The four Days present us with a new opportunity to rethink the layout of the site and to rebuild the festival experience around three very different stages: the main stage (for concerts and live sets), a second stage (for hybrid performances and 360° video projections), and a soundsystem serving as an urban dancefloor.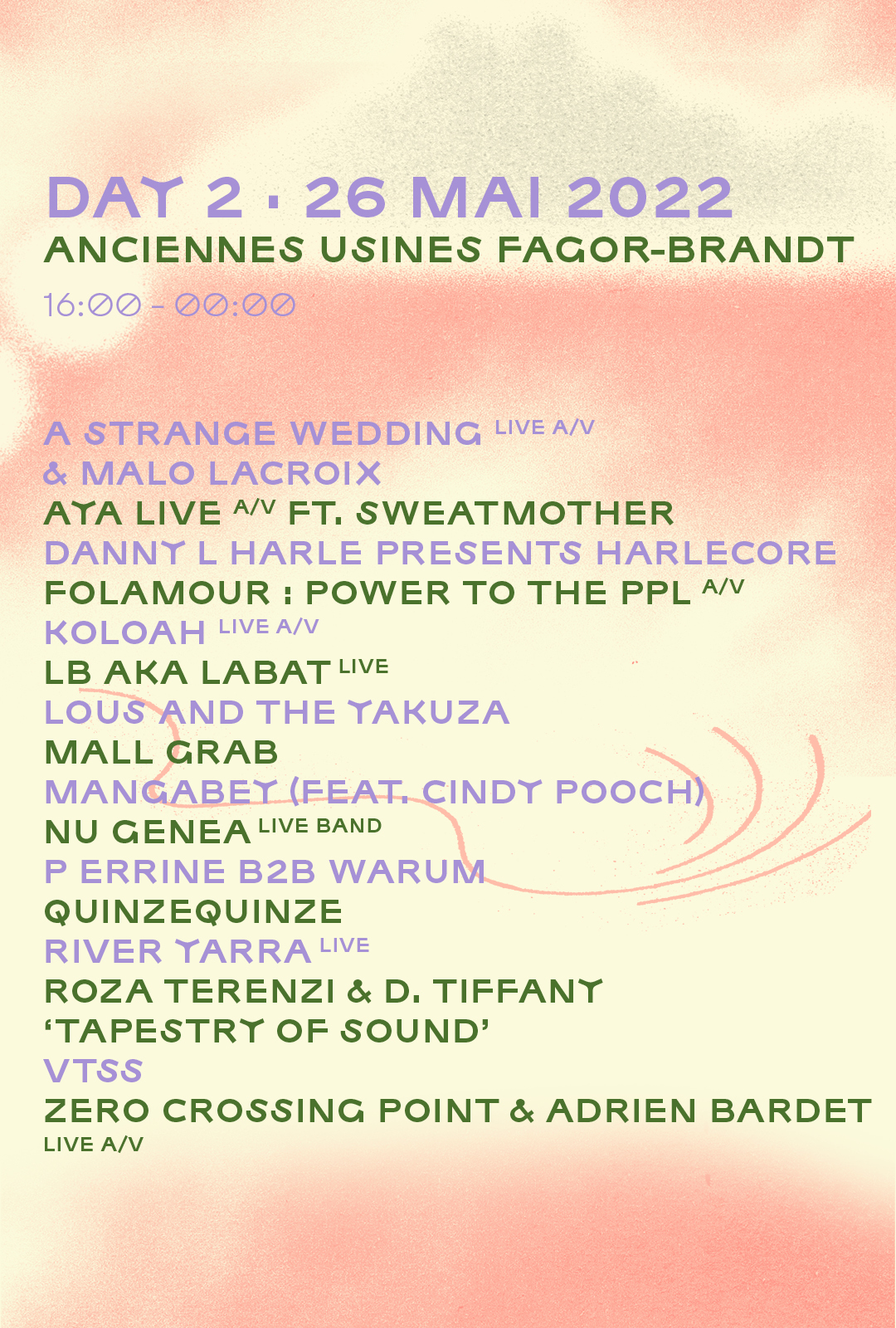 Heavily influenced by the pop revival, the performances programmed for the second day stand out for their singularity and aesthetic diversity.
The main stage, a celebration of diverse youth cultures from all over Europe, is committed to showcasing the music of tomorrow while remaining true to its roots; look no further than QuinzeQuinze, who use Mauritian polyrhythms to create a polished cosmic pop sound. The same is also true of Nu Genea, who draw on their Neapolitan origins to shape increasingly complex boogie and electronic disco music, and of the Belgian-Congolese Lous and the Yakuza, an unapologetically pop-oriented artist from the Low Countries whose music explores her own personal history. The same stage will also be graced by Folamour, crown prince of French house music.
Other noteworthy appearances on this second day include the long-awaited return of Australian electronic heavyweight Mall Grab, who continues to promote up-and-coming talents like LB a.k.a. LABAT (performing on the same stage). An architect of a sound shaped by supersonic techno, breakbeat and pop, the supernova that is VTSS will also be on hand to round off this second day.